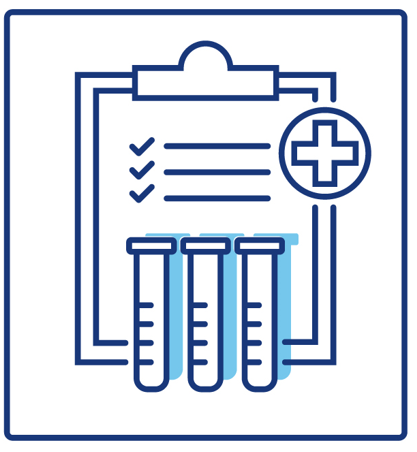 Vitamin Deficiency Package
$142.99
Vitamin Deficiency Online Blood Lab Test Package
The discount blood testing package will help determine if you have vitamin deficiencies for Vitamin A, Vitamin D, Vitamin B12 and Folate.
Vitamin deficiencies can leave you feeling sick and they can also impact the future of your health. Some health conditions and some medications can cause poor vitamin absorption. Getting tested for a deficiency is the only way to know if you are vitamin-deficient.
Vitamin A
Vitamin B12 and Folate
Vitamin D (25-Hydroxy)
Vitamin A Test
Vitamin A testing is used to help diagnose vitamin A deficiency in people with symptoms, such as night blindness, or in people with diseases that impair intestinal absorption of nutrients. It may also be used to detect toxic levels caused by ingestion of large amounts of vitamin A.
Vitamin B12 and Folate Test
B12and Foate are primarily ordered to help diagnose the cause of macrocytic anemia. They are ordered as follow-up tests when large RBCs and a decreased hemoglobin concentration are found during a CBC test. Folate, B12, and an assortment of other tests may be ordered to help evaluate the general health and nutritional status of a patient with signs of significant malnutrition or malabsorption. This may include people with alcoholism and those with conditions associated with malabsorption such as celiac disease, Crohn's disease, and cystic fibrosis.
Vitamin D, 25 Hydroxy
The Vitamin D test is used to determine if bone weakness, bone malformation, or abnormal metabolism of calcium is occurring as a result of a deficiency or excess of vitamin D.
Since vitamin D is a fat-soluble vitamin and is absorbed from the intestine like a fat, vitamin D tests are sometimes used to monitor individuals with diseases that interfere with fat absorption, such as cystic fibrosis and Crohn's disease, to assure that they have adequate amounts of vitamin D. Vitamin D tests are sometimes used to determine effectiveness of treatment when vitamin D, calcium, phosphorus, and/or magnesium supplementation is prescribed.
Preparation: Fasting is required for this blood test: Patients must fast a minimum of eight hours. No foods containing vitamin A should be ingested in the previous 48 hours by patients older than six months. In general, being well hydrated (drinking plenty of water before the blood draw) will help make your veins somewhat easier to locate and access for the blood draw.
Online Blood Lab Test Results: Please allow 6 business days for results.
Please be advised, that our services are strictly self pay and are not eligible for submission as a claim to your health insurance provider. However, you can submit the receipt for reimbursement to many Flexible Spending and Health Savings Accounts for reimbursement.