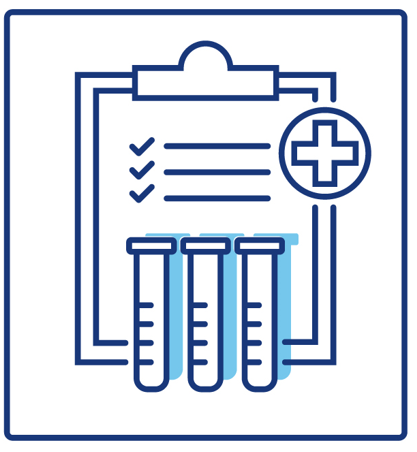 Vitamin D, 25-Hydroxy, Total, Immunoassay
$59.99
The main role of Vitamin D is to help regulate the absorption of calcium, phosphorus, and (to a lesser extent) magnesium. Vitamin D is vital for the growth and health of bone; without it, bones will be soft, malformed, and unable to repair themselves normally, resulting in diseases called rickets in children and osteomalacia in adults. Vitamin D has also been implicated in the regulation of autoimmunity, metabolic function, and cancer prevention.
Discount Online Blood Lab Test for Vitamin D, 25-Hydroxy, Total, Immunoassay
The Vitamin D test is used to determine if bone weakness, bone malformation, or abnormal metabolism of calcium is occurring as a result of a deficiency or excess of vitamin D.
Since vitamin D is a fat-soluble vitamin and is absorbed from the intestine like a fat, vitamin D tests are sometimes used to monitor individuals with diseases that interfere with fat absorption, such as cystic fibrosis and Crohn's disease, to assure that they have adequate amounts of vitamin D. Vitamin D tests are sometimes used to determine effectiveness of treatment when vitamin D, calcium, phosphorus, and/or magnesium supplementation is prescribed.
Preparation: No special preparation is needed. Fasting is not required for this blood test. In general, being well hydrated (drinking plenty of water before the blood draw) will help make your veins somewhat easier to locate and access for the blood draw.
Online Blood Lab Test Results: Please allow 1-2 days.
Please be advised, that our services are strictly self pay and are not eligible for submission as a claim to your health insurance provider. However, you can submit the receipt for reimbursement to many Flexible Spending and Health Savings Accounts for reimbursement.