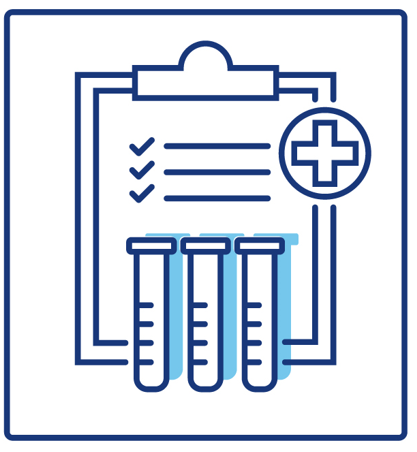 Herpes Simplex Virus II
$59.99
Herpes Simplex II Virus: This discount online blood lab screening test (HSV Type 2-specific Ab,IgG) detects Type II antibodies. Some people may be detectable for a past exposure to herpes as soon as 4 weeks from a suspected contact although most of the population would be detectable with this test after 12 weeks. If you have a positive test result, you should contact your physician who will probably order additional confirmation tests.
There are two types of HSV: Type I usually causes cold sores on the lips. This test does not detect Type I antibodies. HSV Type II usually causes sores in the genital area (genital herpes). This test detects Type II antibodies that develop after at least 4 weeks (but usually longer) from exposure to the infection.
A positive for herpes 2 means the test found signs of type 2 herpes, but it doesn't tell us whether or not you've ever had, or will ever have, a genital herpes outbreak. The test results for herpes fall within a numeric range, which can be a bit confusing. A value of 0.9 or less is negative. A value above 1.1 is positive, though a very low level positive could be a false positive.
Important Note from the Lab about the Herpes II Test: "There is a considerable homology between HSV-1 and HSV-2 antigens, so that antibodies formed against either virus are highly cross-reactive". For this reason, you should know that a false positive result, while a risk with any lab test, is an increased risk with this screening test for Herpes II. In the event of an unexpected positive test result, you will need to consult your physician who will likely order additional testing.
Expect online blood lab test results in approximately 2-3 business days.
Preparation: No special preparation is required for you with this blood lab test. As with any blood draw, it is a good practice to drink water in advance so you are well hydrated.
Please be advised, that our services are strictly self pay and are not eligible for submission as a claim to your health insurance provider. However, you can submit the receipt for reimbursement to many Flexible Spending and Health Savings Accounts for reimbursement.