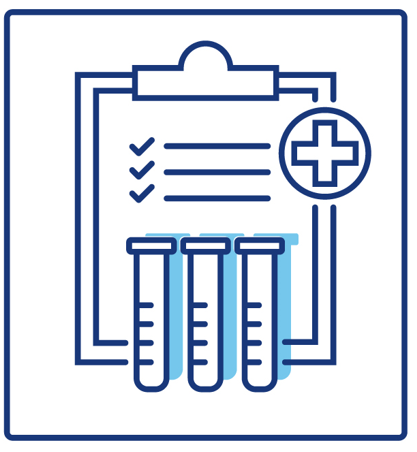 Herpes Simplex Virus 1 & 2
$89.99
Herpes Simplex Virus 1/2 IgG, Type-Specific Antibodies (HerpeSelect®)
Clinical Use
Detect and differentiate between type 1 and type 2 herpes simplex virus (HSV)

Assist in HSV diagnosis and patient management
Clinical Background
Herpes simplex virus infection is extremely common in the United States with a seroprevalence of 58% for HSV-1 and 17% for HSV-2. HSV-1 most often causes oral herpes and HSV-2 most often causes genital herpes, although HSV-1 is responsible for an increasing proportion of primary genital infections. Type-specific diagnosis has important implications for prognosis and patient management. For example, HSV-2 infection suggests a stronger likelihood of recurrent genital outbreaks and asymptomatic viral shedding than HSV-1 infection. Thus, genital HSV-2 infection poses a higher risk of transmission to sex partners or maternal transmission to their neonate than HSV-1. In addition, genital HSV-2 infection is associated with an increased risk of acquiring and transmitting HIV infection.
Individuals who are seronegative for HSV-1 and/or HSV-2 are at risk for acquiring infection from seropositive partners; seronegative women who become infected with either HSV-1 or HSV-2 during pregnancy are the most likely group of HSV-infected patients to pass on the virus to their neonate. Women who are seropositive for both types early in pregnancy have a lower likelihood of neonatal transmission than do women who have a first-episode outbreak later in pregnancy, but a greater likelihood of transmission than women who remain uninfected throughout pregnancy.
When genital or mucocutaneous lesions are present, viral culture and polymerase chain reaction (PCR) tests are recommended. Because IgG antibodies to HSV persist for life, serologic assays can detect infection even in the absence of lesions. Many HSV serology assays, however, are not type-specific. The HerpeSelect IgG assays distinguish between HSV-1 and HSV-2 on the basis of differences in the patient's immune response to HSV glycoprotein G (gG).
Method
This enzyme immunoassay detects and differentiates between HSV-1 and HSV-2. Results are reported for each HSV type
Interpretive Information
These assays are highly sensitive (91%–100%) and specific (93%–100%) for HSV-1 and HSV-2 infection, even in the absence of symptoms. Thus, a negative result suggests absence of infection. Because antibodies may take several weeks to reach detectable levels after primary infection, negative results should be confirmed by repeat testing 4 to 6 weeks later in cases of suspected early infection.
A positive result strongly suggests infection with HSV
This online discount blood lab test is Quest test code 6447. This is a non-fasting blood lab test.
Please be advised, that our services are strictly self pay and are not eligible for submission as a claim to your health insurance provider. However, you can submit the receipt for reimbursement to many Flexible Spending and Health Savings Accounts for reimbursement.