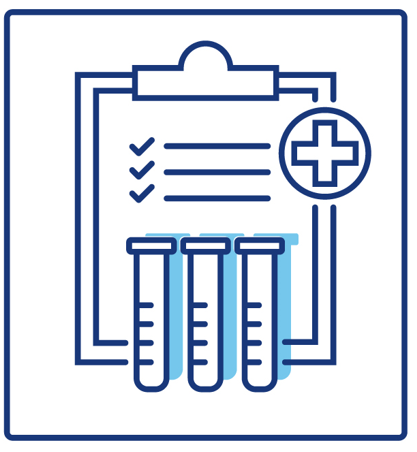 Useful in the diagnosis of toxicity due to Arsenic, Lead or Mercury.
Includes
Arsenic, Blood
Lead (Venous)
Mercury, Blood
Patient Preparation
Avoid seafood consumption for 48 hours prior to sample collection
Methodology
Inductively Coupled Plasma/Mass Spectrometry (ICP/MS)
Assay Category
This test was developed and its analytical performance characteristics have been determined by Quest Diagnostics. It has not been cleared or approved by FDA. This assay has been validated pursuant to the CLIA regulations and is used for clinical purposes.
Reference Range(s)
Whole Blood Arsenic level >100 mcg/L is indicative of acute/chronic exposure. Urine is usually the best specimen for the analysis of arsenic in body fluids. Blood levels tend to be low even when urine concentrations are high.

Lead (Venous)
| | |
| --- | --- |
| Birth-6 years | <5 mcg/dL |
| >6 years | <5 mcg/dL |
Blood lead levels in the range of 5-9 mcg/dL have been associated with adverse health effects in children aged 6 years and younger. Patient management varies by age and CDC Blood Lead Level range. Refer to the CDC website regarding Lead Publications/Case Management for recommended interventions.


This is a non-fasting blood test with an estimated turnaround time of 3 to 5 business days.
Please be advised that our services are strictly self-pay and not eligible for submission as a claim to your health insurance provider, medical bill sharing company, Medicare/Medicaid or other third party payor. 7655